Don't replace it...Just Renew It!
Dent Removal by Renew-It makes dings and dents disappear without the need for paint or body fillers. Using a unique process known as Paintless Dent Removaldent removal (PDR), we restore your vehicle's appearance at a fraction of the cost and turnaround time of conventional body shop repair work.
PDR is a process of removing small dings and dents from vehicles without sanding, filling, or repainting the original finish of the vehicle.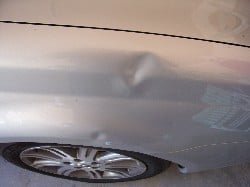 Body panel metal has "memory." It will return to its original shape and contour when massaged into place. PDR uses metal rods to reach inside the body panels and gently massage the dent until it's flush with the surface. Any fine scratches left on the clear coat layer, or paint from the damaging car, can be polished off.
Creases can be removed as long as the metal has not been "stretched" too far. Even if the crease is too large to be removed completely, it can often be improved enough so the after effect is barely noticeable.