Don't replace it...Just Renew It!
Attention to detail is the moral of the story. That is what you are paying for. Renew-It uses only the best quality compounds, glazes and wax. Combine that with convenient on site professional service and you have the best value for your money. Those who insist on the best finish for their cars such as the Queen of England and Jay Leno use the same products we do for their valuable cars. Your car will look fit for a king, or queen.

Regular maintenance of your car's paint will save you money. By having us maintain you car regularly, your paint stays in better shape saving you from the most expensive detail each time it needs to be done. It also keeps that awesome eye catching look all year round.
We specialize in black and red. That means NO swirls.
Courteous, attentive service and high quality products are what separate us from the competition. Our glazes and wax introduce oils and a luster to your car's finish making the paint "jump out" and look deeper and richer creating a noticeable difference. Just don't settle for a wax job, get premium car care. When only the best will do, call Renew-It!
If you are interested in this service, please check out our detailing prices page.
Detail
A rejuvenation process of your car's interior or exterior appearance. The word "Detail" is by no means all-inclusive. It means different things to different people. Be sure to ask about the specific process being conducted on your car! Don't ever just say, "Detail it!"
Buffing
Buffing or polishing is a 7 step process that deep cleans the paint using a machine. It removes oxidation, old wax, minor scratches, and rejuvenates the top paint layer. It prepares the surface for waxing by using a quality sealer and insures a uniform, high-gloss shine. With regular maintenance, this should be done only as needed, possibly every 12-18 months. For the "Ultimate Look" we suggest this is the process to start with.
Clay Bar
On your clean vehicle, use the back of your fingers and lightly pass over the paint's surface. It should be as smooth as glass. If your car's surface has a rough, gritty or pebble-like texture, it indicates the presence of paint contamination. This should be removed with a clay bar before applying a polish or wax. This clay safely removes rail dust and industrial fallout by "pulling" it off the surface. It does not "cut" or perform any abrasive action normally associated with polishing or compounding. With regular maintenance, this could be done once every 6-12 months.
Waxing
Wax is a renewable, transparent and protective barrier applied to the car's finish. A quality wax should last 3-4 months. This should be done after any clay bar or buffing/polishing process has been completed. Regular maintenance keeps the yearly cost of your auto detailing down.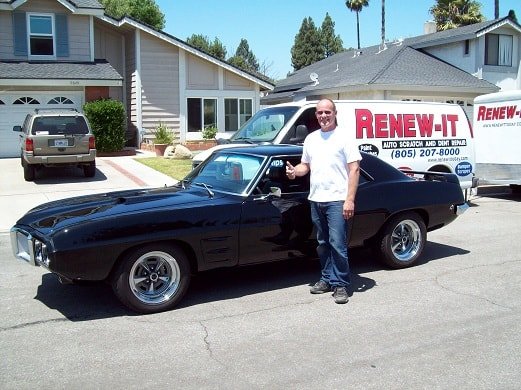 Let us set you up for a yearly auto detailing schedule today!